Imaginary Play Projects That Celebrate Recycling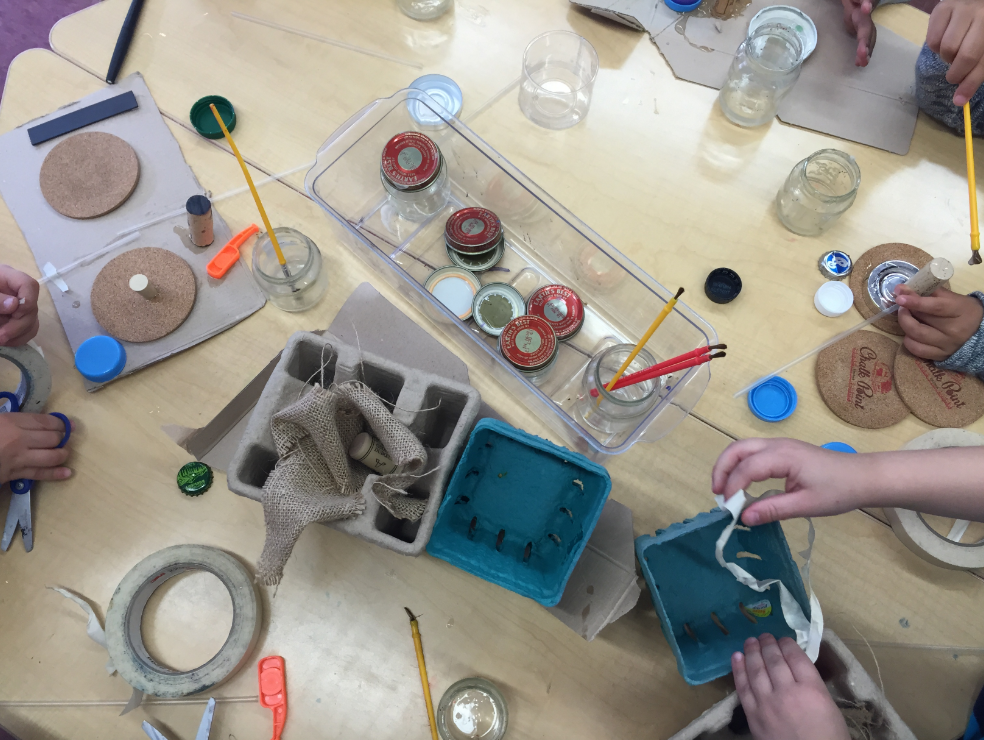 This post was written for Second Chance Toys in Celebration of Earth Day. 
"I'm superhero of the trash!" my prekindergarten student joyfully exclaimed as he placed a cardboard crown adorned with bottle caps and corks on the top of his head.
He had assembled his royal creation using recycled materials that we regularly collected in our classroom. As a teacher that promotes the importance of imaginary play, working with recycled materials was a valuable part of classroom life. Through our arts program, we introduced children to the concept of recycling by connecting it to inspiring creative activities. Spend this Earth Day celebrating the importance of recycling with tangible, fun experiences.
Here are five simple projects and conversation-starters that help young children explore the infinite possibilities of up-cycling.
#1: Recycled Materials Collage
First step, save your finds!
Encourage your child or children to save their recycling for a full week: bottle caps, toilet paper rolls, juice boxes, scraps of paper, water bottles and more. Creating separate bins for their items makes it easy -- and fun! -- to see what has accumulated. This experience helps children begin to develop their perspective on how much trash and recycling they produce, and also delivers a range of open-ended material to create with.
Once your child has a substantial collection, invite them to make a collage on a thick card-stock or cardboard piece—they can arrange a scene, make it abstract or create a three-dimensional sculpture.
Materials needed:
a substantial amount of recycled materials
thick piece of cardboard or card-stock
glue, tape or any other type of adhesive
#2: Painting with Recyclables
Place a long sheet of white paper on the floor, and secure the corners using painter's tape. Surround the paper with trays of tempera paint and a variety of recycled materials like paper towel rolls, corks and plastic bottles — no brushes needed today!
Invite children to collaborate as a group to bring their mural to life using only the recycled materials as their "brushes". As children work together to cover the canvas, they develop a range of fundamental skills, from fine and gross motor movements to their communication and social abilities. Make sure to share concrete observations about their process as they work, such as "you are using your whole arm to move the bottle in a circle" or "you are using the bottom of the cork to make prints." It's a great way to encourage a child to value their process over their results.
Materials needed:
a long sheet of white paper
tempera paint in assorted colors
a small collection of recycled materials.
#3: A Recycled Marble Run
Save your paper towel and toilet paper rolls for a few days. You'll also need a marble and a roll of painter's tape; any width will do. Choose an empty portion of any wall. With the rolls you have collected and the painter's tape, devise a large-scale marble run to tape to your wall that will allow the marble to run all the way through. Connect the tubes, create tunnels and experiment with hidden passageways!
As children work to create a marble run structure that works, they explore important math concepts and scientific principles like gravity, geometry, and engineering. What I love most is that this project organically encourages trial and error, which helps children develop problem-solving skills and perseverance. This STEM activity has offered hours of engaged play and fun for my students.
Materials needed:
a small collection of cardboard tubes from toilet paper and paper towels
a marble and a roll of painter's tape;
#4: Toilet Paper Roll Stained Glass
To begin this project, sit with your child and show them pictures of stained glass. Discuss the art form and let them know that they are going to have the opportunity to create a painted version of stained glass. Lay out a large sheet of tracing paper on the table. Invite your child to dip the top of their toilet paper tube into the black paint and stamp it onto the paper to create a black circle. Have them repeat the process and cover their paper with black circles in a design of their choice. When they are happy with their design, let the paint dry.
Once dry, invite them to paint the inside of each circle with watercolors to create the illusion of stained glass. Hang the creation in the window and watch as light reflects through the watercolors. Who knew that a toilet paper roll could allow your child to create a masterpiece?
Materials needed:
one toilet paper roll
black tempera paint
tracing paper (non-wax)
brush
watercolors
pictures of stained glass.
#5: D.I.Y. Recycled Drum: 
To create a drum, save a large tin can. Cover the edges with masking tape so the sharp edges do not hurt your child. Once complete, help them to cut the upper half of a balloon off (right where the top bulb begins). Stretch the balloon over the top of the can and ta-da: you have created the top of your drum. Decorate the base using whatever materials you choose.
For the drumsticks, popsicle sticks, leftover chopsticks, your hands or twigs will all work. Use recycled materials to create D.I.Y. instruments that will keep your child singing and dancing.
Materials needed:
tin can
balloon
masking tape
decorations (washi tape, sharpie, collage materials)