Spotlight on Rachelle Hruska MacPherson, Founder of Lingua Franca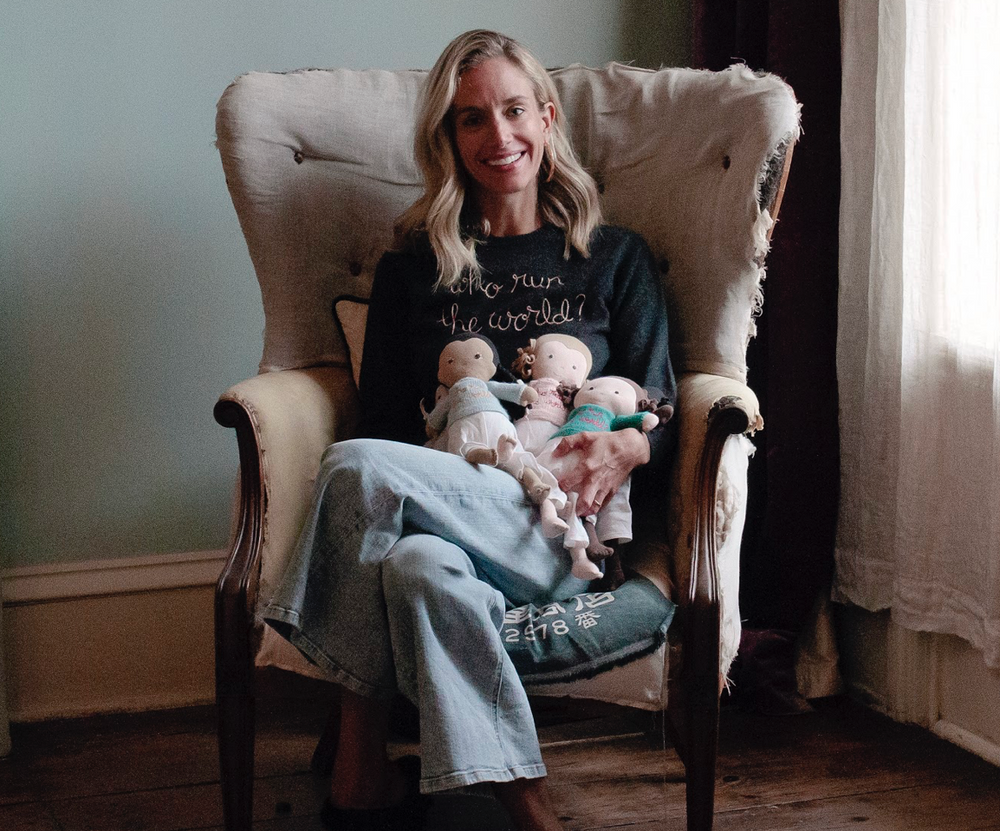 Meet Rachelle Hruska MacPherson, mom of two and founder of beloved brand Lingua Franca. Rachelle is a source of inspiration to us for countless reasons. She has created a company built on the values of sustainability, empowering others and doing good. With every sweater and through every collaboration, Rachelle is committed to fostering dialogue and supporting human connection. We are honored to have teamed up with Rachelle and the Lingua Franca team to launch the International Day of the Girl Doll, made by female-founded Hazel Village. 100% of the proceeds from this collaboration will be donated to WomenOne, an organization that empowers girls through education. Read on to learn more about Rachelle, someone who truly lives the phrase women supporting women.
Q: We love what you're doing at Lingua Franca in creating high quality, sustainable, and fair trade cashmere sweaters, your spirited messaging, and dedication to giving back. Tell us more about you, your inspiration, and your mission with the LF brand. 

Lingua Franca started as a hobby. I returned to my childhood hobby after my therapist suggested I find something to do with my hands to help counter my anxiety. I started posting my creations on Instagram and that's how the whole brand started. I knew that starting a brand from scratch would be difficult, but I didn't have any expectations, and I think that allowed me to truly just be myself and engage in a way that is unique today. I feel totally connected to this community we are creating in a real way. 

As for the products we create, we strive to create things that could somehow serve to make a better world, or at the very least start a conversation and connect people to one another. I'm inspired by all of the people we've met along the way – those trying, like us, to be mindful of what they are putting out in the world – and by our customers, they truly have shown me that consumers care about where their products are coming from and the stories they tell. 

Q: Tell us a little bit about why creating a collaboration around International Day of the Girl was important to you?

I believe that celebrating girls – educating, believing and supporting girls – will benefit all human beings. As women, we are on a constant fight for equality, but especially in this current political landscape. And, I believe it's more important than ever to make sure our girls have equal access to opportunities around the world.

Q: As a female founder, what is your advice to other women looking to start their own business?

First, make sure you are totally committed and passionate about what you are doing. It's rare that any business succeeds without the passion of its founder/s. Then, once you decide to go all in, know that there will be times that you will doubt yourself – you won't think you are good enough or capable enough or strong enough to carry on – you must try to find a way to convince yourself otherwise. Self doubt is one of the hardest things to overcome in entrepreneurship. Find pals that are in the same boat as you and try to find a support team of other women leaders. 

Q: Who are three women that inspire you daily? 

I'm inspired by women that are unapologetically themselves. I like characters – women that dance to the beat of their own drums. 

Q: Like Rose & Rex, Lingua Franca is committed to giving back, with a portion of all proceeds benefiting activists and organizations you believe in.  How do you go about selecting organizations and causes to align with?  
Increasingly, this has become one of the toughest parts of our jobs, though most fulfilling. Ultimately every collaboration and charitable partnership has come down to timing and the people involved. There is no formulaic approach here, it really is kismet. 

Q: We know from experience that it's not always easy to 'care' so much in business when it comes to being intentional about practices, sourcing, and manufacturing. What has been the biggest challenge for LF with this regard? 

The biggest challenge has not been in finding and sourcing ethically, it's been in educating our customers into the "whys" of our ways. The average shopper is used to seeing mark-downs, they expect to receive products quickly, and they are used to the seasonality of their clothes aka "trend shopping." We are hand-stitched, seasonless and sales-less in our offerings, and rarely offer returns. That message is a hard sell for many buyers. I myself am learning to buy less, and more thoughtfully, and to really care and treasure the items I choose.

Q: Looking ahead - what's next for Lingua Franca, and what are you most excited about? 

We are launching a completely new line of sustainable products this December – something we've been working on for three years. I am excited to see how the world responds. We also have a lot in store for 2020. I can't wait!

Q: You have a beautiful family with two young sons. How does your family inspire you? 

My family is my motivation and inspiration for everything I do. My sons inspire me to be the best version of myself I can be. I am proud to show them what being passionate about something looks like, and I'm committed to cutting out the petty on their behalves. Their curiosity is truly inspiring. I'm always trying to remember to think more like a 6 year old, limitless and free. 

Q: People ask us often about how to teach children gratitude & the importance of giving back. As it's genuinely part of the 'fabric' of your business - any tips on how you're teaching this at home? 

Practice by doing. I believe it's much more impactful as a parent to model the values you hope to instill in your children. 

Lightning Round:

- Favorite Ice Cream? Sorbet

- Early Bird or Night Owl? Night Owl

- Heels or sneakers? Birkenstocks

- The super power you would have is: Sleeping in.

- Favorite color? Changes

- Books or movies? Both

- Plate of French fries or slice of cake? Both

- You have an open plane ticket—where will you go?! Tokyo!